People - Faculty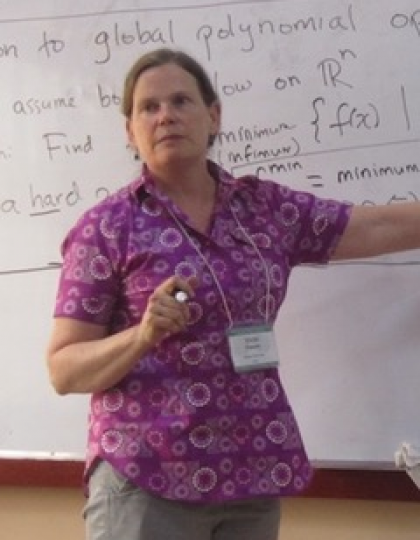 Victoria Powers
Professor
Office: N418
Phone:
Email: vpowers@emory.edu
Personal Website: http://www.math.emory.edu/~vicki/
Research Groups: Algebra and Number Theory
Office Hours:
Tuesday: 1:00PM - 2:30PM
Wednesday: 1:30PM - 3:00PM
Thursday: 1:30PM - 3:00PM
Teaching (Fall 2023):
MATH 250 (3) - Foundations of Mathematics TuTh 1:00PM - 2:15PM
MATH 425 (1) - Mathematical Economics TuTh 10:00AM - 11:15AM
Research:
Real Algebraic Geometry, Polynomials, Symbolic Computation, Ordered fields, Algebraic Theory of Quadratic Forms
Recent Publications:
Polynomials nonnegative on strips and half-strips, with Ha Nguyen, J. Pure Appl. Algebra 216 (2012).
Polya's Theorem with zeros, J. Symb. Comp. 46 (2011).
Rational certificates of positivity for compact semialgebraic sets. Pac. J. Math. 251 (2011).
Education:
Ph.D. (1985) Cornell University
B.A (1980) University of Chicago